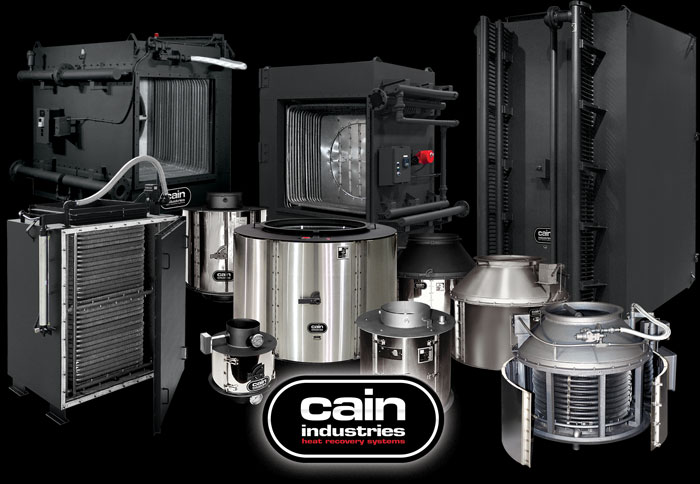 Exhaust Heat Recovery for Boilers
Cain Industries offers an extensive selection of boiler economizers specifically designed to recover BTU exiting the exhaust stack and transferring it back into a desired heat sink. Our broad line of economizers cover the spectrum of boiler sizes, ranging from very small hot water boilers with burner inputs of 200,000 BTU/hr to large boilers delivering steam at 250,000 lb/hr. Cain also produces boiler feedwater systems, condensate tank and pump systems, exclusive sootblower assemblies and unique modulating internal exhaust gas bypass systems.
Exhaust Applications

Steam Boilers

Hot Water Boilers

Hot Oil Heaters

Ovens and Dryers

Specific Combustion Sources

Equipment Variety

Boiler Economizers

Circulating System Components

Storage Tanks

Modulating Internal Exhaust Gas Bypass Assembly
System Function
Cain boiler economizers reduce energy cost by capturing valuable heat from boiler combustion exhaust that would typically escape up the stack and into the atmosphere. This recovered BTU is transferred back into heat sinks such as boiler feedwater, cold makeup water, process water, swimming pool water, glycol and thermal fluids. Combustion fuels include natural gas, propane, digester gas, diesel fuel and No. 2-6 fuel oil.
Proposal Considerations
Consider Cain for cylindrical or rectangular stack connections, large or small boilers, a particular pinch point requirement, stack or liquid temperature control, special heat sink requirements, special heat transfer metallurgy requirements, specific maintenance concerns, optional equipment requirements, installation space and weight concerns, and package system requirements.
Anticipated Results
Tremendous fuel savings typically pay for equipment and installation within 1 to 2 years of average use

Pollution reduction equivalent to lowered annual fuel usage

Longest heat exchanger life expectancy
Boiler Economizer Family
Click on a economizer series below for more information:
---
Replacing the Competition
Beyond the 5 boiler economizer product lines, including over 500 boiler exhaust economizers, the "unique application" is no problem. Our team concept with the specifying engineer provides the solutions for the complete engineered system. These systems have ranged from modifying the RTR model to all stainless for condensing natural gas combustion below 150°F to preheating boiler feedwater from bio/landfill fired boiler exhaust.
Impossible to some, but for one of the largest hospitals in Manhattan we designed and manufactured a large customized RTR unit that could be shipped in small components and reassembled in the field. The objective was to provide a boiler economizer which would retrofit the exhaust of two of the five 125,000 pph boilers as located 3 stories below the street. All the components were shipped on two flat bed trucks. Upon jobsite arrival the components were manually carried down through a 3x3 foot square manway in the middle of the sidewalk. They were then assembled together as a single 250,000 pph boiler economizer within the two boiler's manifolded exhaust breaching. Since the boiler feedwater piping had been completed prior, the installation was finished in two weeks!
A horizontal RTR was custom engineered and manufactured to replace a competitor's unit that failed. One of the problems causing the failure was poor performance due to an ineffective sootblower. Cain's exclusive Timed Automatic Sootblower provides total control for blowdown intervals to accommodate the specific soot buildup of every application. This unit was also designed to exactly match the exhaust flange dimensions and overall size for easy replacement.
A vertical RTR unit replaced a failed competitor's unit and was constructed to be a replacement fit and offer greater performance. ASME designed at 750 PSIG this RTR is rated for a 150,000 lb/hr steam boiler. With an exhaust gas flow rate of more than 36,000 SCFM, it saves the end user over $450,000 each year in fuel costs.
We engineer and manufacture combustion heat recovery systems for just about every type of combustion source. This ranges from the small multi-family residential natural draft boilers to the large high pressure industrial boiler feedwater preheater systems.
Whether you need a single straight forward economizer or you are planning a complex process application, we would like to discuss the ways that Cain Industries can dove-tail our engineering skills to meet your needs.
---
System Components
Cain Industries offers a wide range of system components, pre-engineered specifically for each application. Every product has been tested, shown to be of the highest quality, and proven to be fully compatible with all Cain heat recovery products.
Mating Flanges and Gaskets
Cain offers round, square, and rectangular mating flanges, transitions, and gasket sets to suit most any application. Flanges are black steel or stainless steel where appropriate.
Circulating Pump Kit Assembly
Cain offers all necessary pumps and related fittings for your heat recovery application... Whether you need shut-off, check, relief, vent, steam stop, pressure, temperature control or drain valves.
Drain Catch Ring Assembly
Under various applications with natural gas combustion, condensation can accumulate within the economizer and/or stack outlet. The "drain catch ring assembly" safely collects and drains away all possible condensation. It includes various NPT drain connection sizes, depending on the application.
Support Stands
Cain offers structural steel support stands that easily bolt together for low cost and ease of field assembly.
Liquid Temperature Control
Cain Industries offers a sophisticated liquid temperature control which functions as follows: during a cold startup, the exhaust bypass will be powered to the normal operating position. As the liquid temperature rises and approaches a preset point, the liquid temperature control signals the exhaust bypass diverter which will begin to move to the temperature control position. When the desired temperature is completely satisfied, the diverter actuator will move to the maximum open position. The heat recovery can be reduced by up to 50%. Included is a 4-20mA output controller, thermocouple, thermocouple weld and wire, as well as a modulating bypass actuator installed, wired, and tested (for a single 120 volt, 1ph, 60 hz connection).
Stack Corrosion Control Assembly
This assembly includes: control panel with digital controller, modulating diverter actuator, and thermocouple. The Cain Stack Corrosion Control assembly senses a minimum exhaust gas temperature leaving the economizer. During a cold startup, the diverter will be powered to the "Maximum Open Position." As the temperature rises above a preset minimum temperature, the diverter will begin to close to the "Normal Operation Position." As the percent of exhaust load conditions fluctuate to lower outputs, the diverter actuator will open accordingly to maintain a minimum preset outlet "Temperature Control Position."