Gas & Diesel Cogeneration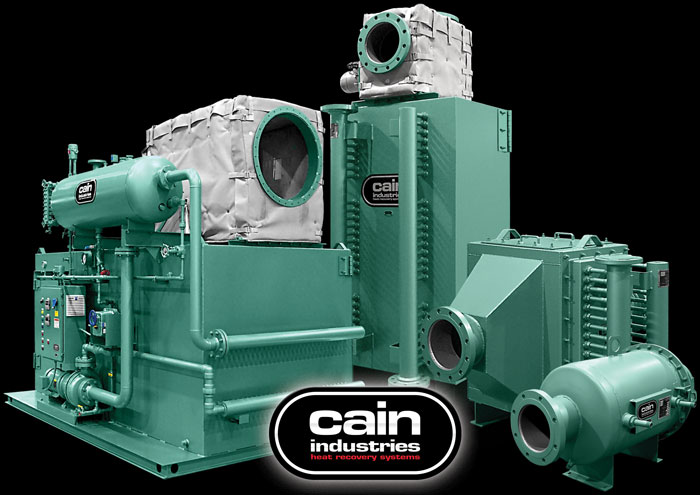 Exhaust Heat Recovery Systems for Engines
Cain Industries manufactures heat recovery product lines for gas and diesel engines, gas turbines, and micro turbine generator retrofit applications. For these applications, we offer over 500 standard products to choose from and can typically provide a comprehensive analysis and quotation to fit your exact needs within 48 hours. Our equipment can be adapted and assembled to fit any application or complete installation.
Cogen Applications

Hospitals

Manufacturing Plants

Schools

Office Buildings

Shopping Malls

Drilling Platforms

Oil & Gas Plants

Marine

Equipment Variety

Exhaust Steam Generators

Large Exhaust Recovery Silencers

Smaller Specialized Exhaust Recovery Silencers

Special Heat Transfer Configurations

Recirculating Engine Jacket Water Boilers
System Function
BTU is transferred from the exhaust stream to heat sinks such as water, glycol, therminol fluids, or steam production. Suitable fuel types for combustion sources include natural gas, propane, digester gas, diesel fuel, and light to heavy fuel oils.
Proposal Considerations
Large or Irregular Exhaust Connections

High or Varying Exhaust Temperatures

Particular Pinch Point Requirements

Exhaust or Liquid Control

Special Heat Sink Requirements

Special Heat Transfer Metallurgy Requirements

Specific Maintenance Concerns

Optional Equipment Requirements

Installation Space and Weight Concerns

Package System Requirements
Anticipated Results
Tremendous fuel savings typically pay for equipment and installation within 1 to 3 years of average use.

Pollution reduction due to lowered annual fuel usage.

Lower exhaust temperatures and significantly reduced sound output levels (final sound attenuation is typically 15 - 25 dBA).
Gas & Diesel Cogeneration Family
Click on a cogen series below for more information:
---
Optional System Equipment
Components for Complete Systems
Cain Industries' engineering team is available to propose the proper system components at competitive pricing. Upon review of your application, you can expect our proposal within 48 hours. It will include professionally engineered details showing equipment costs, savings analysis, computer generated economizer performance, CAD dimensional drawings, flow schematics, warranty, and a performance guarantee.
No matter how small the micro-turbine or how large the engine, Cain Industries has the heat transfer equipment, optional components, and years of experience to provide the best solution.
Remote digital indicators and control packages

Pre-piped skid mounted circulation pump system packages

Boiler blowdown assemblies

Valves: steam stop, shut-off, relief, vent, drain and check

Pressure or temperature control valves

Bi-metallic or mercury thermometers

Expansion joints

Explosion hatch relief ports

Tanks: storage or expansion

Bypass damper actuators: pneumatic or electric, on/off or modulating, air or spring failsafe return
Ebullient Steam Generators from Engine Jacket Water
The Exhaust Cooling Steam Generator (ECSG) as designed to produce low pressure steam (15 PSIG and under) from engine jacket water via natural circulation. They are available in a variety of tank sizes for horizontal or vertical installations. Standard design includes: ASME stamped steam flash tank built in accordance with Sec.VIII Div.I; shipped as a packaged unit including continuous water level feed control with low water cutoff, auxiliary low water cutoff, excess steam pressure switch, gauge glass assembly, surface and main blowdown assembly, vent valve, steam safety valve, steam pressure gauge, wall or floor mount. Basic customer connections for ease of installation include: 150# steam outlet, 150# water outlet, 150# water/steam inlet, NPT Blowdown, and NPT Boiler feedwater. The unit shall be pre-piped and wired for a single 120v 1ph 60hz customer power connection.
Boiler Feedwater Tank Assembly
Cain Boiler feedwater systems are available in a variety of tank sizes, feedwater pump configurations, and optional water treatment assemblies. Packaged assemblies include: heavy wall tank as mounted on a 5' high rectangular tube structural steel stand with water level controls and low water cutout, gauge glass and thermometer, magnesium anode; (2) 2" NPT vents; 2" NPT condensate return; 1" NPT drain with shut off valve; Duplex or Triplex boiler feedwater pump system; electrical control panel fully pre-wired with fused disconnect switches, magnetic starters, manual start-stop switches and indicating run lights for feedwater pumps and alarms; all interconnecting wiring from electrical control panel to each component, optional chemical feed system, and/or automatic water softening system; all interconnecting bypass piping, valves, gauges, fittings, etc. Primed, painted, and tested package is a complete, properly functioning assembly, ready for the customer's primary connections of water, condensate return, and electricity.
Our Uniquely Designed Exhaust Gas Bypass Valves
Cain Industries offers total exhaust gas control with high temperature modulating bypass and shut off valves. The valve assemblies offer precise exhaust temperature control and/or the design capability for exhaust isolation. Sizes ranging from 4" to 40" diameter are available in carbon steel and stainless steel for all engine temperatures. All valves are available with either electric or pneumatic control actuation and emergency fail safe features.